17 Keys Kalimba Thumb Piano - Halloween Bat Koa Wood - Beginner
Regular price
$50.00 USD
Sale price
$45.99 USD
Unit price
per
8% OFF
Sold out
Get it between -
Share
---------Sound Sample---------
Koa Wood Characteristic: Good resonance performance, long sustain, crisp and pleasant sound, elegant color and wood grain, bright luster
Handmade and Profession: Handmade with high-quality Wood which are with an accurate pitch, good sound and long response echo. Comfortable with the handguard when hold and play it as the ergonomically designed and polishing.

It's suitable for playing, collecting and giving gifts.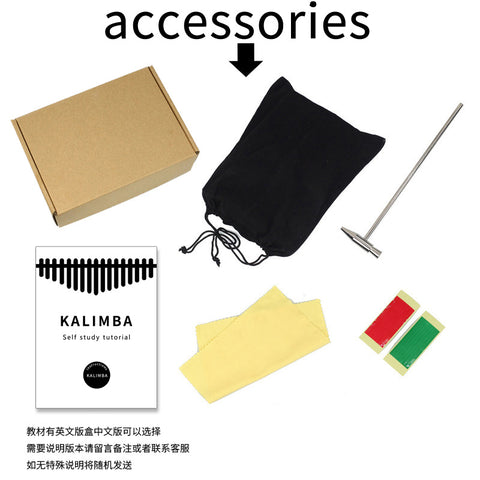 Pleasant sound, easy beginner instrument
It's very pretty, both looking and sounding. It's in tune. It has wide age appeal- my husband and babies love it. I think this is true of all kalimbas, but the selection of pitches and their layout makes it hard to play dischordant noise, and it's not too loud, so it beats the heck out of toy instruments to buy for children. It is packaged well and makes a great gift. I'm ordering more!
Good for a first Kalimba
I ordered this product looking for a new instrument to pick up in my past time, and I have to say I am pleasantly surprised by this Kalimba.The wood is light, (though thin), and the color/dye is a lovely deep slightly turquoise-y blue. The etched design is pretty clean, and the wood (possible plastic) is smooth, so there's no worry of splinters.
The drawstring bag is made of a soft velvety material that's lovely for a soft, non-abrasive bag, but seems to attract every pet hair, loose pine needle, or any other debris it happens to come across. My Kalimba had one "dead" tine, it doesn't ring too well, and just makes a high-pitched PLINK sound. I havrnt had to use that specific key, thankfully, but it might be wprth noting for others. Overall, this Kalimba otherwise has a lovely, music-box sound.
Definitely seems like a good Kalimba for anyone wanting to start out.
Beautiful
This kalimba looks just like the photo and it sounds great. It comes with everything you need for it too, which is really handy.
Sweet music
Great gift ideal and very sturdy. Great music maker and very entertaining...