17/21 Key Kalimba - Cute Panda and Unicorn Designs - Handcrafted Mahogany thumb piano
Regular price
$35.00 USD
Sale price
$33.50 USD
Unit price
per
4% OFF
Sold out
Get it between -
Share
---------Sound Sample---------
Material: Mohogany
Original: CN
Professional C Tune and Wide Range: Standard C tune 17 tone calimba has a rich range, and it has more room to play than the 10-tone and 15-tone especially for some professional performers. Most songs can be played on a 17 key sanza.
Handmade and Profession: This kalimba are handmade with high-quality Mahogany which are with an accurate pitch,good sound and long response echo. Comfortable with the handguard when hold and play it as the ergonomically designed and polishing. Perfect balance of sound cavity, hand holding feeling and appearance, It's suitable for playing, collecting and giving gifts.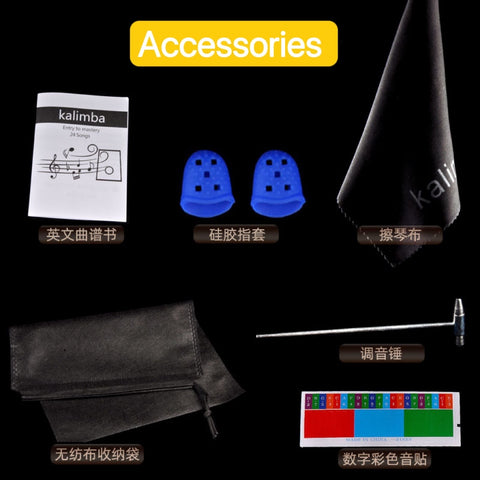 Happy with the product and the customer service
My original order was missing a couple of things and when I sent the seller a message, he not only responded quickly but he was very nice and helpful. He sent a replacement even though there was nothing wrong with the kalimba itself.
This is my first kalimba purchase and I am very happy with it. I was worried it might be a little on the childish side but it isn't- it is beautiful and very relaxing to hear and play. I would buy this again.
Just Buy!
I am so happy with this purchase, it gives so much only less than $35. It didn't come with stickers like it advertised but I did not need them. I really recommend this product, it's easy to learn and very beginner friendly. I've only had this for a week and I can play 3 of my favorite songs. I strongly recommend this.
Such a fun hobby! Would make a great gift!!
I watched a few kalimba videos on Instagram and had been thinking about getting one of these for a while now. I jumped at the chance to try this one out!
The first thing I noticed when I got it, was that it was a little bigger than I had imagined, not too much but I remember thinking that. Also that it was so pretty!
I've already spent a few hours watching YouTube tutorials for a few covers. I've played a couple instruments and I love that this one still sounds very "pretty" even when you mess up while practicing. It's so sweet and pleasant to listen to. Really looking forward to spending more time with this!
For the price, I think it's a great little purchase to start up a new hobby. It would also make a wonderful gift. Comes well packaged with a protective bag and tuning hammer.
Nice Gift
My daughter purchased this as a gift for her niece because she is always learning and playing her kalimba. When I say she bout lost it when she unwrapped it....she did - heck we all did!!! This kalimba is beautiful. I'm used to seeing the wood kalimba.... never seen a glass one. The sounds are softer almost harp like....beautiful. She has been playing her kalimba since she got it.